The challenge of first-time motherhood was the newness, but a challenge with the third pregnancy was just finding rest. 
As if being pregnant weren't enough, I was chasing a one and three year-old around while living at my parents house. For much of that pregnancy, my husband was either in Iraq responding to the refugee crisis that came from the war with ISIS or studying Arabic up in central California. 
It was helpful having my parents there but not as helpful as being in your own home with your own routine.
We had been living in constant transition, coming back to California for each birth but packing everything up again to move the family back to Iraq, and often traveling in between. My son was three and had already been on over 30 flights.
I was so over it.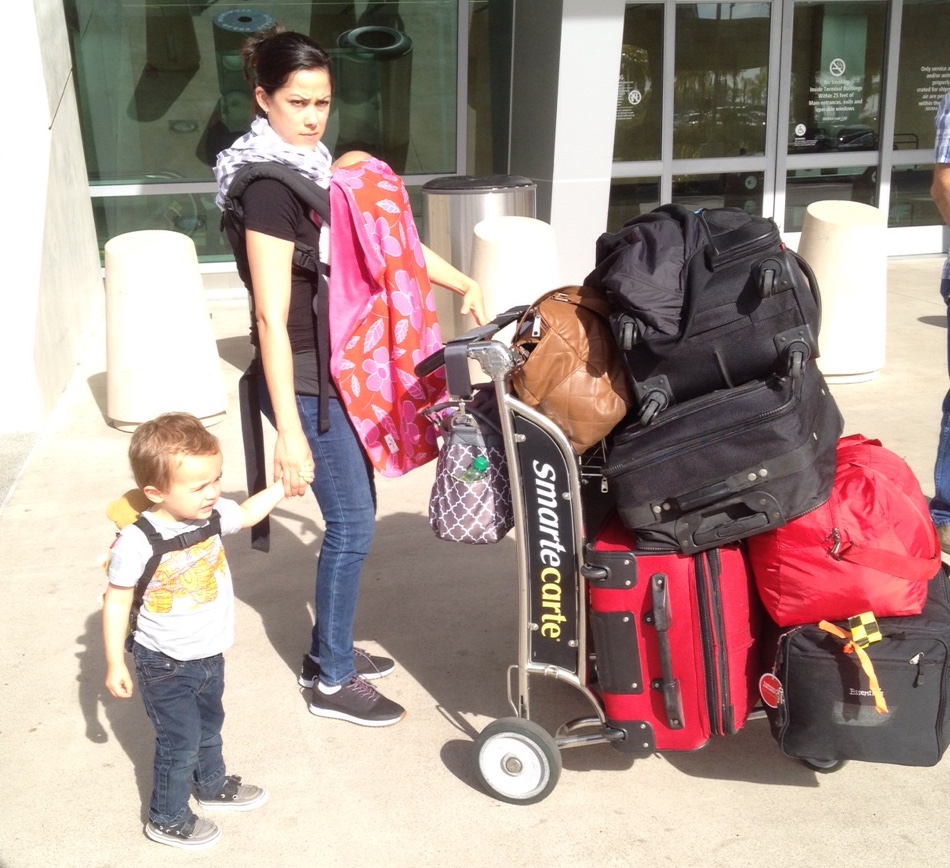 The kids could sense the tension, and so could my body. 
As we got closer to the due date, I was doing all the things to help our little guy come out sooner—but my body knew better. I couldn't trick her into thinking everything was ok when my head was telling a different story.
I thought constantly about how my other two kids were acting out because they didn't feel secure with our constant moving, about what I would need to pack up to take back with us, and about the unrest happening in the Iraqi city where we lived. They had closed the airports and our trip back was going to be more difficult than usual.
Most pressing on my mind, though, was getting this baby out before Christmas. He was due the first week of December, but here we were just a week before the 25th and still no baby. When you are this overdue, you start to hear some pretty irritating things like "How many babies are in there?" and "Don't have the baby here!" or every time you bump into a friend it's "Still no baby?!" 
I knew they were trying to be friendly but it felt more like annoying reminders: yes, I'm still ten months pregnant and the size of a whale.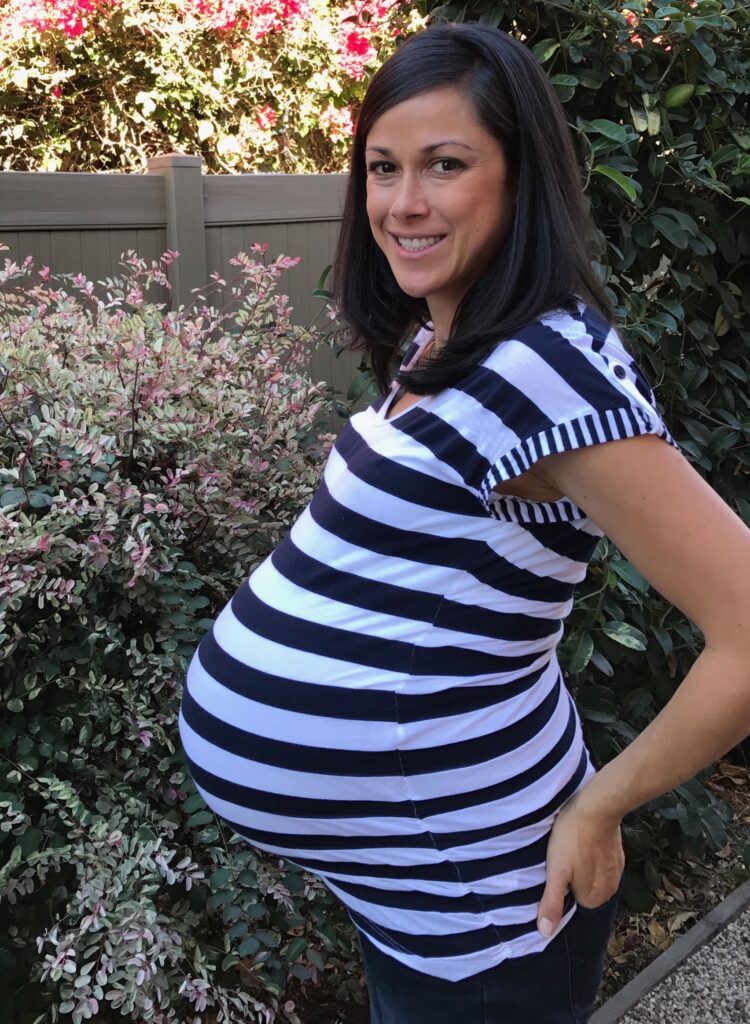 One night, we went to a Christmas party at a good friend's house and I had such a good time (despite not being able to try the amazing hard cider). I laughed more than I had all year. I finally relaxed. Then like magic, an hour after we got back to the house, contractions started. 
I took a shower, got into bed, and my water broke.
The drive to the birth center was only a couple miles, but the intense contractions made it feel like forever. We arrived and I barely had time to get into the tub before he was crowning.
Just a few pushes later and he was in my arms, but he didn't cry. I looked up at the midwife and asked, "Is he ok?" He had come so fast that she was the only one there, the supplies were still packed away, and she was looking for the aspirator. 
Another minute passed and I asked again "Is he ok?". He was still connected through the umbilical cord but we held our breaths waiting for him to take his. Another minute passed and the look on the midwife's face got me worried. 
After minutes of terror, the senior midwife burst in and, with a clear head and thousands of deliveries under her belt, she took the baby from my arms, held him up, and stroked his back.
Then came the sweetest cry we've ever heard.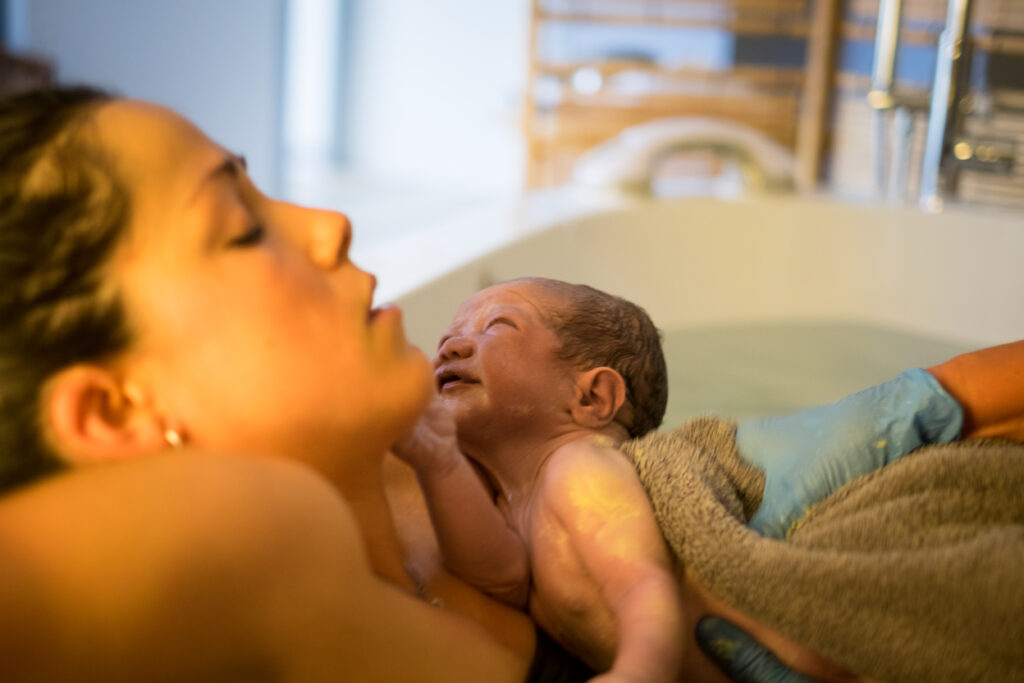 For the next three months, he didn't stop crying. Despite the relief I felt at that moment, the stress of our life situation didn't disappear just because the baby came. I was up the very next day making breakfast for my two-year-old and at Target a few days later shopping for last minute Christmas gifts.
Then we had to wrap up our life in the States, pack everything into a few suitcases, and take three small children to the other side of the world. This time that would mean a sixteen hour flight, then a three hour flight, then a taxi to the border, then cross the border on foot, then wait for our friend to pick us up to drive a bumpy six hours home.
My heart is beating fast just writing that down because I remember the stress my body held while preparing for this trip. I tried to recover from giving birth, but I had so much fear and resentment inside of me. My body told me to slow down and rest but I just couldn't. 
I got mastitis for the first time in over three years of nursing. Then I got it again. I went back to the midwives at the birth center and she asked "Are you sure you have to go back so soon?" She heard my body screaming out even though I didn't want to listen. Then I developed shingles and I had to listen. I couldn't go anywhere because it was too painful to even put clothes on. 
I laid on the bed under the fan, feeling the cool breeze on my sores and cried. I hadn't let my body rest at all after having the baby. We pushed our return date back which helped a little but the next six months would prove to be even more stressful than the last. 
Since then, I have learned so much about the impact of stress on a body, the way trauma is actually stored inside our bodies. I've learned to rest and take care of myself. I've worked hard to release some of that trauma my body still carries. I wish I could go back and hold the me that felt like she couldn't sit still, to let her know her worth isn't in her doing, it's ok to have needs and ask for help. I want that for every mama out there, everyone who gives until there is nothing left. 
Your health matters too and it's ok to stop and take care of yourself! 
This gets me so excited about the vision of Mama2Mama. Much of postpartum care focuses on the baby—and that's important too!—but I love that these care kits are created with mom in mind, reminding her that her recovery is just as important as taking care of her baby.
By caring for ourselves, we can better care for our newborn.
With you, 
Cayla